Finnick Creative and Stuart Holmes
The Stuart Holmes salon is a hairdressing haven situated in central Cheltenham, just off the famous Montpellier area. After working in conjunction with the salon for many years, Finnick Creative's marketing executives Tegan and Meg were kindly invited to visit the hairdressers for themselves and experience everything the award-winning salon has to offer.
The salon is owned by one of the country's 20 leading hairdressers, Stuart Holmes, and is one of the few UK salons to hold the British Hairdressing Business Awards 'Salon of the Year' title, as well as many other National leading industry awards. Keep reading for Meg and Tegan's review of the Stuart Holmes salon experience.
Review
From the second we walked through the Stuart Holmes doors we knew we were in safe hands. The strikingly stunning décor is similar to that of a high-end London salon but there is a peaceful, tranquil atmosphere you couldn't find in big cities. The friendly, approachable receptionists lead us through to a beautiful waiting area, full of magazines and books to keep us entertained until our appointments.
Rachel, the Stuart Holmes Salon Director, was our stylist for the day. This highly-trained colourist took the time discuss our hair's history, what we wanted to get from the appointment and any specific products we wanted to be used.
Meg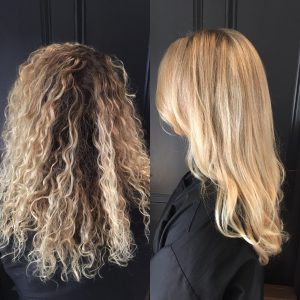 It's taken 22 years to understand my curly hair. I've probably tried and tested every 'curly hair product' on the market, every length, every style and every hair colour (let's not mention the fluorescent purple phase). I have spent the last year or so trying to improve my hair's health and length, as years of colouring and straightening had left it in a sad state.
I came to the Stuart Holmes salon wanting to lighten my dark roots and neutralise the yellow tones of my blonde highlights. I wanted to leave with a fresh, ashy head of hair that wouldn't need much maintenance.
Rachel suggested creating icy blonde highlights at the front of my head with softer tones in the back. This would freshen up my roots but mean that a touch-up wouldn't be necessary for a while, so I could continue to improve my hair's health.
Rachel used L'Oréal Smartbond products to strengthen my hair during the lightening processes. This incredible product range is specifically designed for hair colourists, and strengthens hair fibres during colouring to minimise breakage. I'm normally reluctant to colour my hair for fear of breakage, but I left the salon with hair that felt healthier and stronger!
I have never been so happy with the finished product of a hair appointment – Rachel used her expertise to give me exactly what I asked for. Her blow-dry was flawless and the colour is perfect, I couldn't have asked for anything more!
Not only am I thrilled with the end product, but the overall customer service was impeccable. All members of the Stuart Holmes staff are the perfect balance of professional and approachable. It's no surprise the salon has been nominated for 'Best Salon Experience' and 'Customer Care Award' in recent years.
Tegan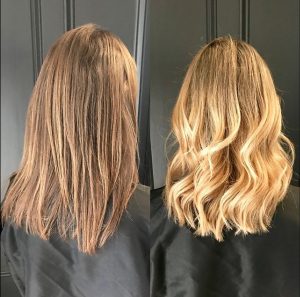 I arrived at the salon with mousy-brown hair, totally free from processed colour. I too have been trying to improve my hair's health, which has resulted in the avoiding of hair dye for a good few years. At the beginning of my appointment all I told Rachel was that I wanted to go blonde – I had full confidence in her expertise and let her do what she does best.
Jade gave me a trim to neaten up the ends of my hair and she did a fantastic job. My hair looks so much healthier and I didn't have to lose much length to do so, which was something I was worried about!
I am absolutely delighted with my colour results. The highlights and tones Rachel created compliment my skin tone perfectly and look very natural. Despite never being this blonde before I have booked in another appointment to go even blonder! Rachel finished the look with a gentle curl to give my hair volume and depth.
We want to take this time to thank the Stuart Holmes team for your impeccable client service and for making our hair so fabulous!
For all appointments call the Stuart Holmes salon on:
01242 220001